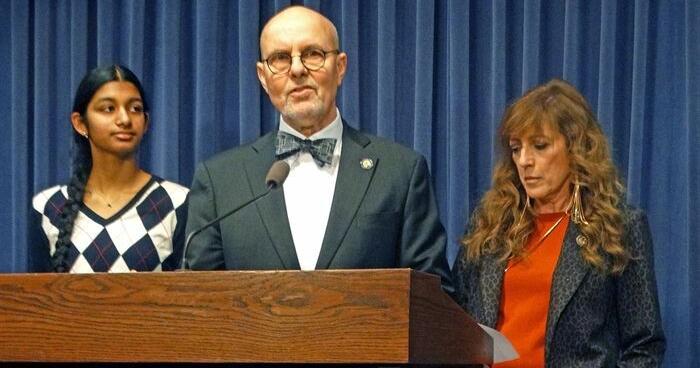 SPRINGFIELD — Parents who earn money by posting videos of their children on social media may soon be required by law to share that income with their children.
The Illinois Senate Labor Committee this week unanimously approved a bill that would guarantee children the right to a percentage of that revenue if the videos meet certain criteria.
"Parents should not be able to profit from their children's work," state Sen. Linda Holmes, a co-sponsor of the bill, said at a news conference Wednesday. "It's no different than child TV stars having protection. We have to make sure that children are properly compensated for their work."
State Sen. David Koehler of Peoria, the bill's sponsor, compared it to California's 1938 "Coogan Act" — named after child silent film star Jackie Coogan — which first protected the earnings of child actors in Hollywood.
But Koehler said no such law exists to protect children whose parents make them the subjects of social media videos, and if the bill passes, Illinois would be the first state to do so.
"I didn't realize how big of a problem it was. This is a huge problem," he said. "And we're bringing the country's attention to it."
Parents sharing pictures or videos of their children on platforms like Facebook, YouTube and Instagram is not new. But some parents have turned it into a household by starting a vlog or vlog that generates income through advertising, product placement and subscription fees.
People in this business are sometimes called "influencers". It stems from the business practice of recommending certain products or services in an attempt to get others to buy them.
Koehler and Holmes said they got the idea from 15-year-old Normal student Shreya Nalamotu, who said she started looking into it as part of independent research in high school.
"When you scroll through the internet, do you ever see videos of kids or families vlogging about every aspect of their lives?" She asked. "Most of the time, when children are on the Internet, it is useful content without malicious intent. But unfortunately, with the rise of social media, we are starting to see the rise of so-called child influencers, and child influencers are basically children who are forced by their parents to appear in videos in order to earn more views and money. »
Senate Bill 1782 would bring children featured in vlogs under the protection of the Illinois Child Labor Act.
It provides that if a child under the age of 16 is featured in 30 percent or more of a vlogger's content within a 30-day period and the video generates compensation, then the child is entitled to a pro rata share of that revenue. In other words, if a child is featured or discussed in 30 percent of the content, then the child will be entitled to 30 percent of the revenue.
If more than one child is drawn and they all meet the threshold for compensation, they will share their share of the income equally. This money should be put into a trust fund that the child or children can access when they turn 18.
In addition, when a child turns 18, he or she can ask the online platform to remove any content in which they are depicted.
"Because a lot of kids are being filmed, honestly, and it's really funny," Keller said. "But when they're, you know, 20 years old, they might not think it's so funny."
Although the bill passed the Labor Committee, Keller said he plans to introduce an amendment to clarify some aspects of the bill before it is considered by the full Senate.
Capitol News Illinois is a non-profit, non-partisan news service covering state government. It is distributed in more than 400 newspapers across the state, as well as hundreds of radio and television stations. It is funded primarily by the Illinois State Printing Foundation and the Robert R. McCormick Foundation.
https://www.news-gazette.com/news/state/bill-would-give-child-influencers-a-share-of-parents-vlogging-revenue/article_3127535f-7f44-5e12-95b7-9e949af48082.html