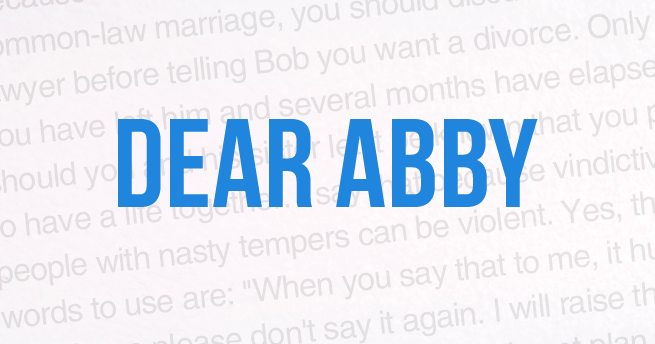 Dear Abby: I am in conflict over my relationship with a 77-year-old lady whom I will call "Martha". I acted as her caretaker.
For the first three years I was addicted to the painkillers that Martha and I take. I was so annoyed that I didn't realize what kind of person it was. She expects me to be there every free minute, which under other circumstances would be good. But I have a husband and a dog. I've been sober ever since, and Martha is still at the bottom. She threatens to ruin my life if I don't do what she wants and I'm afraid to quit because we have loans together.
How do I start to have a healthy balance with her and my life? Now that I'm sober, I realize how badly she treated me all the time. Can you advise me how to get away from it? – A STRONG WOMAN IN GEORGIA
Dear sober woman: For the sake of your sobriety, your relationship with Martha should end. Don't allow yourself to be blackmailed and continue with her alone. She needs to find another tutor and you need another job. Because your name is in these loans, you may be required to repay them if she fails to do so. That's why you need to discuss this issue with a lawyer. The fact that Martha is still abusing her medication means that you may have certain levers of influence.
Dear Abby: My husband and I are arguing about returning the gifts his parents give us. They are well-off and overbought by their grandchildren all year round, especially on holidays. They also buy some gifts for my husband and me. We are drowning in too many things and are constantly struggling with clutter in our home.
None of these gifts are on our family's wish list, and they're not particularly thoughtful. In previous years, I asked my mother-in-law to limit shopping to three gifts – one toy, one outfit, one book – without success. I also asked her to stop buying me small gifts and offered more experience-based gifts. However, year after year we come home with a bunch of things we don't need and don't need.
How can I make mothers-in-law respect our wishes? What's worse, my husband gets to protect his parents when I'm disappointed, even though he fundamentally agrees with me. How can I help his parents understand that they are actually giving us a fight? And if none of them bother my desires, how do I get rid of feelings of disrespect and ignorance? – SAVED
Dear buried: By this time you should have realized that your mother-in-law, "Lady Bountiful," would not change. You will spend less time on frustration if you let go of your resentment at spending it. My sincere advice is to develop a sense of humor where she is concerned. If you can't use her gifts, donate, give away or sell them.
Written by "Dear Abby" by Abigail Van Buren, also known as Jeanne Phillips, and was founded by her mother Pauline Phillips. Contact Dear Abby at www.DearAbby.com or Zip Code 69440, Los Angeles, CA 90069.