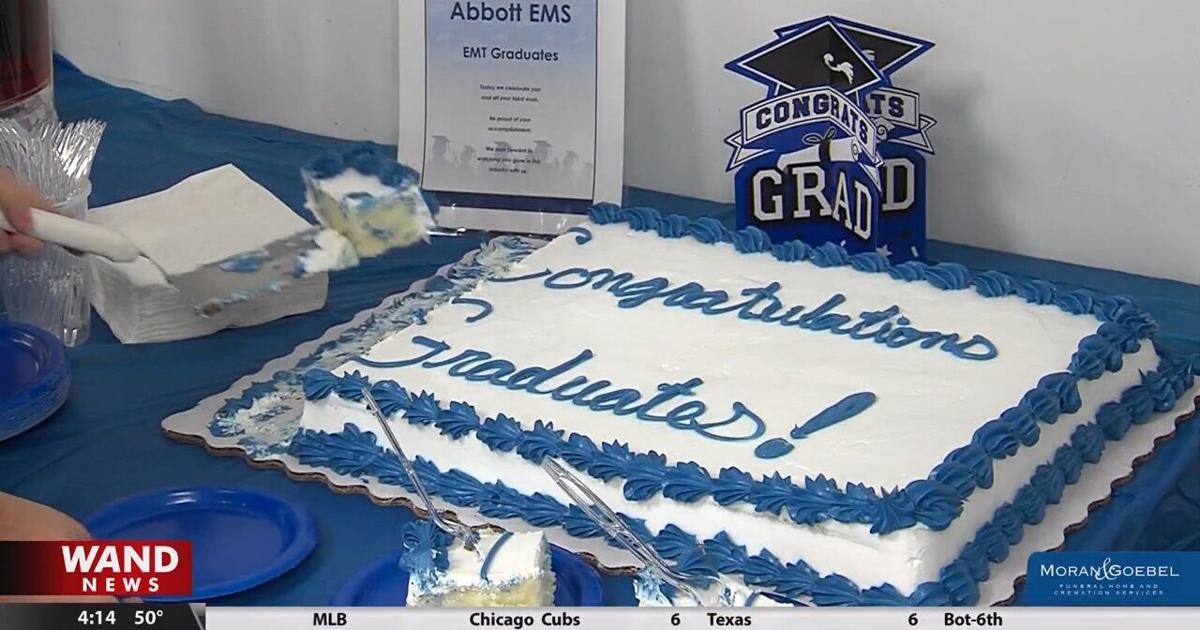 DECATUR, Ill. (WAND) — The first enrollment of students in the Earn While You Learn program ended on Tuesday.
The program is a collaboration between Richland Community College and Abbott EMS.
The 8-week course aims to remove the barrier to entry for those interested in becoming an emergency medical technician, as students are paid through Abbott while studying at the Richland Emergency Medical Laboratory.
Trevor Smith, director of the EMS program at Richland Community College, said, "Partnering with private companies like Abbott EMS to offer initial training for EMS technicians is an innovative approach to help fill gaps in the EMS workforce of medical care in our community. These students went through an intensive eight-week course, but succeeded and built relationships along the way that will only be strengthened as they go on to practice as therapists in Decatur and Macon County."
Students and their families even celebrated graduation with cake.
"Abbott EMS is proud to partner with Richland on the EMT-B Earn While You Learn (EWYL) program. "Students are on the path to a new career in emergency medicine," said Brian Gert, regional director of Abbott EMS. "With the shortage of emergency medical professionals in the state of Illinois and the nation, this program is an important step in meeting the needs of our community at the local level."
Copyright 2023. WAND TV. All rights reserved.
https://www.wandtv.com/news/emt-students-graduate-from-richland-and-abbots-new-program/article_ee66ed9e-bdf3-11ed-88fa-6333cfdf5f75.html