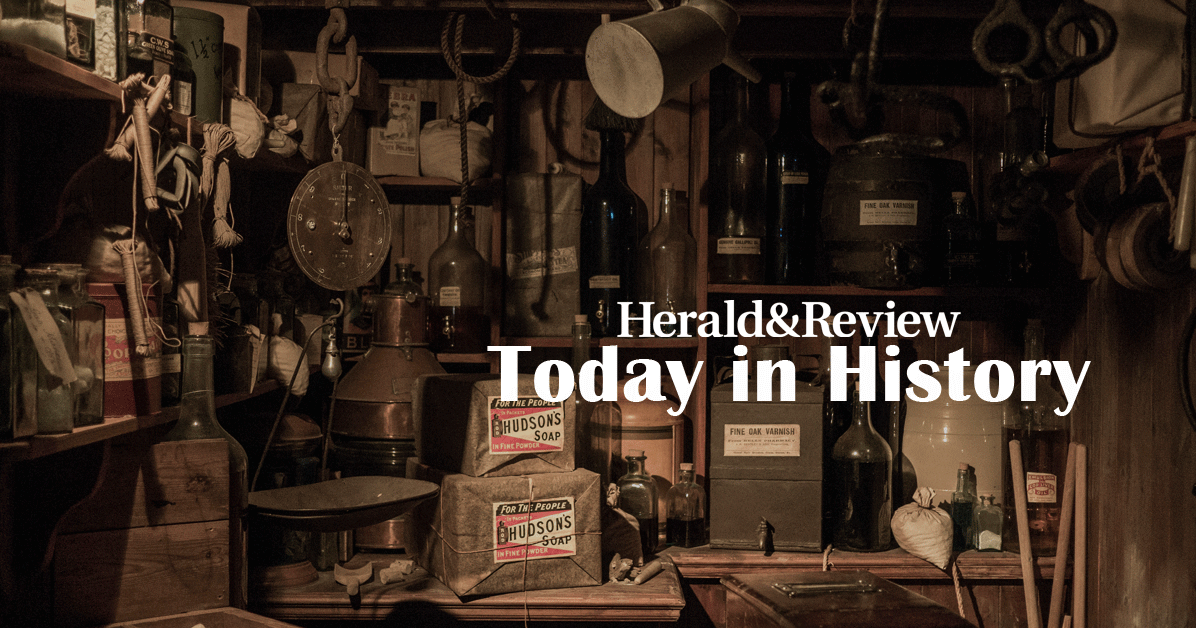 Today's moment of history:
On March 4, 1933, Franklin D. Roosevelt became the 32nd President of America.
In 1789, the Constitution of the United States came into force when the first federal congress was held in New York. (Then lawmakers announced a break due to lack of quorum.)
In 1863, the territory of Idaho was created.
In 1865, President Abraham Lincoln was inaugurated for a second term; in connection with the end of the Civil War, Lincoln declared, "No one is angry, with mercy for all."
In 1917, Republican Janet Rankin of Montana took her place as the first woman elected to the U.S. House of Representatives, the same day President Woodrow Wilson was sworn in for a second term (it was Sunday, a private ceremony took place inside). US Capitol; the next day the second public oath took place).
In 1966, the London Evening Standard quoted John Lennon of The Beatles: "We are more popular than Jesus," a comment that provoked an angry reaction in the United States.
In 1981, a jury in Salt Lake City convicted Joseph Paul Franklin, a recognized racist and serial killer, of violating the civil rights of two blacks, Ted Fields and David Martin, who were shot dead. (Franklin received two life sentences for this crime; he was sentenced in 2013 for the murder of Jew Gerald Gordon in 1977.)
In 1987, President Ronald Reagan appealed to the nation over the Iran-Contras case, acknowledging that his efforts against Iran had "deteriorated" in the hostage arms deal.
In 1994, in New York, four extremists were convicted of an explosion at the World Trade Center in 1993, which killed six people and injured more than a thousand. Comedian John Candy has died in Durango, Mexico, at the age of 43.
In 1998, the U.S. Supreme Court ruled that sexual harassment at work could be illegal, even if the perpetrator and the victim are of the same sex.
In 2012, President Barack Obama in an address to the Israeli Public Relations Committee in Washington said he did not want a war, but that he did not hesitate to attack Iran if it was the only option left to prevent it from acquiring nuclear weapons. Vladimir Putin has won a landslide victory in Russia's presidential election to return to the Kremlin and extend his rule. Nearly 300 people in the Republic of Congo have died after a series of explosions at a weapons depot in the capital, Brazzaville.
In 2015, the Justice Department allowed Darren Wilson, a former white police officer in Ferguson, Missouri, for the fatal shooting of 18-year-old black Michael Brown, but also released a scathing report calling for radical changes in the city's law enforcement. practices.
In 2017, President Donald Trump accused former President Barack Obama of tapping his phones during the 2016 election; An Obama spokesman said the statement was "simply false." Tommy Page, a former pop star whose song "I'll Be Your Everything" took first place in 1990 and who later became the head of a record company, has died in New York at the age of 46.
In 2018, former Russian spy Sergei Skripal and his daughter were found unconscious on a bench in the town of Salisbury in south-west England; both survived what, according to British authorities, was an assassination attempt using a nerve agent.
In 2020, federal health officials investigated a suburban nursing home in Seattle at the center of a coronavirus outbreak.
In 2021, breaking away from other governors of the South, Alabama Gov. Kay Ivy extended her state's mask for another month, but said the requirement would expire in April. Protesters in Myanmar protesting against a military coup last month returned to the streets unafraid of killing at least 38 people the day before by security forces.