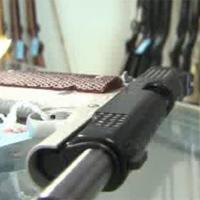 (WAND) – Illinois police recently opened their fourth firearms identification kiosk (FOID) so people can apply for and renew their FOID card and concealed carry license.
Metro East now has a kiosk located at District 11 headquarters to help people who do not have access to Internet devices or are experiencing difficulties online.
Illinois residents can visit one of four kiosks across the state to get help.
"Illinois Police have worked hard to improve FOID and CCL customer service by setting up kiosks where people can receive personal assistance and working to close the gap," said Brendan F. Kelly, director of the provider. "Currently, the provider can process all new applications within the timeframe set by the state."
Current places and opening hours include:
Eastern Illinois Subway
Illinois County Police Department 11, 1100 Eastport Plaza, Collinsville, IL 62234
Regular hours: Monday to Friday, 8:30 – 12 pm and 13:00 – 16:30
Northern Illinois
Illinois County Police Department 5, 16648 Broadway St., Lockport, IL 60441
Regular hours: Monday-Friday, 8 am -11: 30 and 12:30 pm – 4:00 pm
Central Illinois
Illinois Central Police Headquarters, 801 S 7th St, Springfield, IL 62703
Regular hours: Monday to Friday, 8:30 – 12 pm and 13:00 – 16:30
Southern Illinois
Illinois County Police Department 13, 1391 S Washington St, Du Quoin, IL 62832
Regular working hours: Monday-Friday 8:30 – 12 pm and 13:00 – 16:30
All clocks can be changed.
The following is a list of services provided by these kiosks:
Help with submitting name / address changes, renewals and new applications online
Take a photo and upload it to the app
Assistance in correcting rejected applications
A public computer will be available to populate online applications and upgrade existing accounts.
Representatives of the Firearms Security Office will NOT be available at kiosks to help customers with canceled cards and rejected applications.
Copyright 2022 WAND TV. All rights reserved.
https://www.wandtv.com/news/isp-open-4th-firearm-owners-identification-kiosk/article_bde6f848-cd4a-11ec-91df-a38f439f3b0e.html