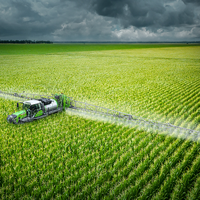 (WAND) – Parkland College announces a new partnership with AGCO Corporation.
AGCO Corporation is a world leader in the development, production and distribution of agricultural machinery and precision agriculture technologies.
Beginning in the fall of 2024, the college will build a new $6 million learning center on campus. Construction was made possible thanks to a $5 million donation from AGCO.
A new one will be placed on the facility Service Technician in Applied Science Degree Program. It will provide students with instruction on specific AGCO equipment such as Fendt® and Massey Ferguson® and provide education in general agricultural concepts.
The program will accept students sponsored by AGCO dealers.
The two-year program will use a work-study program to alternate students between classroom and field work. Those who complete the program will receive full associate professor accreditation.
The program includes:
AAS Service Technician Degree
AGCO Equipment Technician Level 1, 2 and 3 Certification
Information on operation, troubleshooting and maintenance of AGCO equipment
Service, warranty and parts information for AGCO equipment
On-the-job training with AGCO dealers
Fall 2023 classes will be held in the existing agricultural buildings on campus.
The new 25,000-square-foot building will break ground in the summer of 2023.
Click for more information HERE.
https://www.wandtv.com/news/parkland-college-announces-new-partnership-with-agco-corporation/article_c1a7ddc8-bcf3-11ed-a074-fb44a4bdf8cb.html