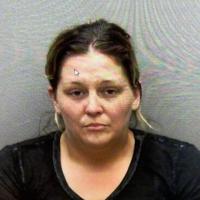 Taylorville, Illinois (WAND) – A suspect in the Taylorville arson told police she burned down her home, officers said.
On Tuesday, Taylorville police and firefighters heard a call about a house fire in block 800 on E. Adams Street. They also learned about the disturbance in this place.
At the time of arrival of law enforcement officers from the house was thick black smoke. Officers shouted to see if anyone was inside. They then tried to enter the house to check, but the smoke was strong.
Firefighters arrived on the scene and went inside through the front. There was no one inside, the fire was quickly extinguished.
Police said eyewitnesses told them neighbors heard the excitement and saw the landlord walk away from the home just before the fire. Police searched for her and her children, then learned from witnesses where she had gone.
When officers found her, they said she confessed to the crime. She and her children were taken to the police department.
Authorities have identified the suspect as 35-year-old Britney J. Hill. She was accused of arson under aggravating circumstances.
Hill is in custody in Christian County.
This is the third arson in 2022 in Taylorville. Police said two of the three crimes were solved through arrests. The investigation into the fire on Tuesday continues.
Copyright 2022. WAND TV. All rights reserved.
https://www.wandtv.com/news/police-arson-suspect-admitted-to-burning-house-down/article_0d5d902c-d191-11ec-8e10-7ff4165fa345.html