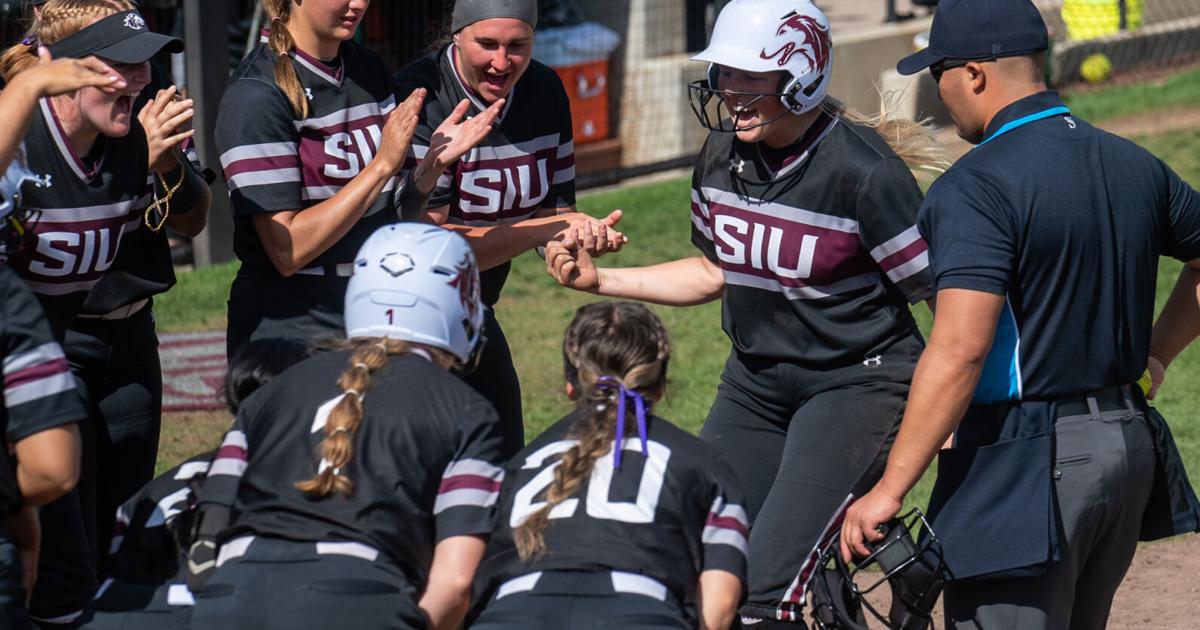 Jenny Jansen has fond memories of Killian Stadium, Missouri.
"Our school team won a couple of state championships there," she said.
For Jansen's brilliant career to continue in the NCAA tournament for the third time in four years, SIU must win a tournament in the Missouri Valley that begins Thursday at 6:30 p.m. in a quarterfinal match against an opponent to be determined.
Who Salukis (27-18-1) plays with is not as important as the result they demand. It's either a win on Thursday night, a win on Friday and a win on Saturday, or they'll miss the postseason. Under RPI 106, there is no question of applying for a wide selection.
But the "winner takes it all" bet doesn't seem to bother interim coach Jen Sewell or her team.
"It's just our expectations," she said. "I like the way we play in the tournament. We've been getting offers by adding to them, and our pitchers are holding back another team. Our defense has improved.
"I think our group has recently switched the switch. I wish they had done it sooner, but I prefer to play our best softball now than play in April or March. "
SIU is part of the MVC tournament with five wins in a row, beating Evansville and Illinois together with a score of 40-12. This hit almost as many homers (11) as allowed runs in the interval as well as piling up walks. The Saluks received 24 free passes during those games, making them into the top 10 in Division I in the 200s.
Every SIU beginner can boast a walking speed of at least 12 percent – 10 percent is acceptable – with Elizabeth Huckleberry – almost 25 percent and Jansen – 23 percent. On average, the Salyuks walk more than four times per game to supplement the average team run of 0.293 and 5.8 runs per game.
Ashley Wood and Riley Hamilton won in both games Saturday's confrontation with a score of 13-3, 8-3 with a score of 13-3, 8-3 from Illinois. Jansen and Elizabeth Warwick added twice to the nightcap.
"Our crime turned out and we were on fire," Wood said. "It's a great way to take part in a conference tournament. You can't ask for anything better. "
It seems SIU has corrected its serve and defense, which were weaknesses in the first half of the season. Sarah Harness and Maddie Eberle are constantly digging in or finishing their starts, and the Saluks aren't giving opponents as many four-out innings.
Sewell, who took the helm from Carrie Blaylac in 12 games a season when the all-time leader of the Salukis 'resignation resigned from the field for health reasons, said both pitchers were more effective.
"They were able to make adjustments the third and possibly the fourth time through the order," she said.
It was at this tournament last year that Harness inscribed her name in the SIU softball show. She played three full games in a row, fighting over Drake and Northern Iowa, and allowed only one earned race to nominate Saluk for the NCAA tournament.
It is this tournament and past successes that give SIU a sense of confidence in other teams this week.
"I think we're playing our best softball right now," Jansen said. "If we've had problems before, I said that if we play our best softball in March, we're in trouble. I hope we go to the tournament with momentum and go as far as possible. "
DAWG bites
Jansen (.389-8-41), Hamilton (.362-6-33) and Harless (17-10, 3.12) were named in the first All-MVC team on Wednesday, while Warwick (.290-6-35) was the team's second choice. Catcher Sidney Sykes, who leads Division I in terms of performance and is in the top 10 in the number of runners caught stealing (15), became a conference trip. … Jansen was also named MVC Player of the Week in the last week of the regular season after 5 out of 7 scored by Homer in Illinois. … ESPN + will receive all tournament games.
https://thesouthern.com/sports/siu-softball-jansen-salukis-aim-for-repeat-mvc-title/article_02aea9e3-8412-526f-a623-342da3094266.html