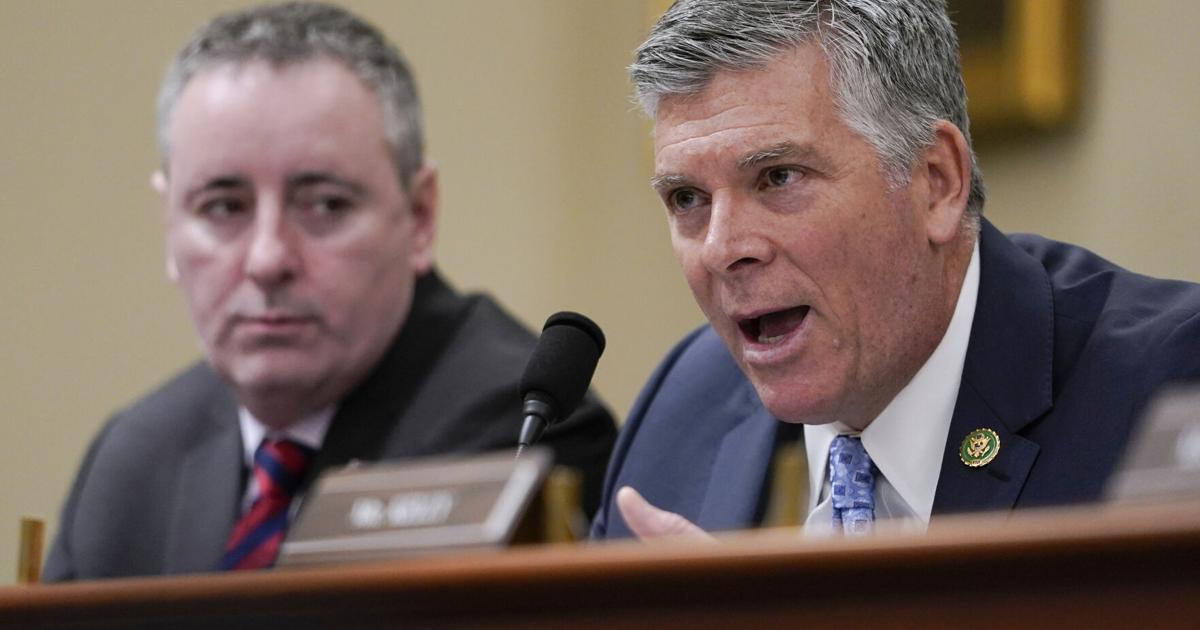 WASHINGTON (AP) — A Republican lawmaker on Thursday charged FBI mistakenly finding his name in foreign surveillance data, underscoring the challenges ahead for US officials trying to persuade Congress to restore its authority to collect vast amounts of communications.
Rep. Darin LaHood, R-Ill., did not say why the FBI sought his name in information collected under a provision of the Foreign Intelligence Surveillance Act known as Section 702, and a spokesman for the lawmaker did not respond to a request for further clarification.
At a hearing before the House Intelligence Committee, LaHood pressed FBI Director Chris Wray to admit that his agency and others have sometimes broken rules on the use of data collected through electronic tracking.
"We obviously have work to do, and we really want to do that with this committee to show that we can be worthy stewards of these important powers," Ray said.
In a statement, the FBI said that while it could not comment on specific requests, it had made "extensive changes over the past several years" to address compliance issues.
The White House and U.S. intelligence officials are pressing Congress to renew Section 702, which expires at the end of this year. They face sharp criticism from Republicans who accuse the FBI of abusing its powers to spy on allies of the former president Donald Trump and Democrats who believe that civil liberties are insufficient.
Section 702 allows the US to collect foreign communications without a warrant and request data for a variety of reasons, from fighting China to stopping terrorism and cyber attacks. Secret services end up accidentally collecting a large number of emails and messages from US citizens. They can access US citizens' data under strict rules for law enforcement and intelligence purposes, but the agencies have admitted to violating those rules in some cases.
LaHood will lead efforts by House Republicans on the Intelligence Committee to recommend changes to Section 702. Although he and other Republicans on the committee say they support the law, LaHood has criticized the violations as making the extension more difficult.
"There are too many members of Congress on both sides of the aisle who question whether the executive branch can be trusted with this powerful tool," he said. "And that's because there has been past and present abuse and misuse of 702 by the FBI."
LaHood cited a 2021 compliance report from the Office of the Director of National Intelligence, which noted a case of data searches on an unnamed congressman. Officials evaluating the incident determined that the searches were conducted for foreign intelligence purposes, but were "overbroad" and therefore did not comply with agency rules.
Wray did not directly address LaHood's claim, but the FBI said in a statement that the changes included a new internal audit office focused on FISA compliance and new requirements governing particularly sensitive requests. Searches involving elected officials now require the approval of the FBI's deputy director.
Wray also said he was mindful of surveillance blunders during the FBI's investigation of Donald Trump's 2016 presidential campaign and Russia, including the flawed programs to monitor the communications of former Trump campaign adviser Carter Page.
The Justice Department's inspector general's report on that investigation "describes conduct that I found to be completely unacceptable and uncharacteristic of the FBI," Wray told lawmakers Thursday, adding that significant reforms have been made since then.
Although these errors occurred under a different section of the law than the one subject to reinstatement, the backlash over the errors has complicated the FBI's efforts to make a broader case for reauthorizing Section 702.
The bureau has made several compliance changes and reformed the way it searches for Section 702 data, he said, adding that US citizen searches have dropped dramatically over the past two years.
Earlier this year, the White House launched an effort to convince Congress that Section 702 powers are critical to U.S. intelligence. Senior officials cited extensive examples of the program's successes, saying they used its data in the operation to kill al-Qaeda leader Ayman al-Zawahri last year.
This week, one key Democrat pushed the Biden administration to make a stronger case for the law. Sen. Mark Warner, the Virginia Democrat who chairs the Senate Intelligence Committee, told intelligence officials on Wednesday that he and his colleagues "are going to push you to declassify more information so we can convince the American public again."
All contents © copyright 2023 Associated Press. All rights reserved
https://www.wandtv.com/news/lawmaker-says-fbi-wrongly-sought-surveillance-info-about-him/article_4eb7e73a-bec0-11ed-a40a-d365c3bf0b63.html