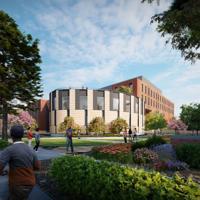 CHAMPAIGN, Ill. (WAND) – The Gees College of Business has named its new building in recognition of a gift from alumnus Stephen Weimer, pending approval by the Board of Trustees.
The building will be called Stephen S. Weimer Hall.
The building will serve the students, faculty and staff of Gies Business and other schools and colleges on campus.
Weimer is a 1985 graduate of Hiss with a bachelor's degree in accounting. He is a portfolio manager in the equity and high income division at Fidelity Investments and is a Danville native.
Since 1997, he has been the manager of the Fidelity Growth Company Fund.
After graduating from Gies, Wymer went on to earn an MBA from the University of Chicago. He lives in the Boston area with his family.
"This gift is a permanent return on the Ghis investment from a partial academic scholarship I received as an undergraduate," Wimmer said. "The building modernizes the College's infrastructure to help deliver its evolving approach to in-person, hybrid and online education and research. The goal is to create an environment in which students, faculty and staff can perform at their best."
Steven S. Wymer Hall is a partnership between Gies Business and the University of Illinois at Urbana-Champaign. The nearly 100,000-square-foot building will sit on Gregory Drive between the Business Learning Center and Half Hall.
The groundbreaking ceremony of the four-story building will take place on April 14, 2023, and the completion of construction is planned for December 2024.
"I am overwhelmed by such generous support from Steve and all the alumni and friends who have helped make this important project possible," said Jeffrey R. Brown, Joseph and Margot Lakanishok Professor of Business and Dean. "Steve has supported our college for several years in ways that directly align with our goal of developing purposeful leaders through life-changing access to education, research and innovation. He sees the impact we are making on the lives of students around the world, and his willingness to invest generously in the future of learning speaks to his love for this college and his admiration for our students, faculty and staff."
Stephen S. Wimmer Hall will include a 200-seat auditorium, two 80-seat classrooms and four 60-seat classrooms. In support of the college's online programs, the new building will include two 40'x40′ sound stages, five studios and six control booths, all of which will be shared spaces with the south campus schools and colleges.
Eighteen additional meeting and collaboration rooms will provide expanded space for experiential learning, group work and meetings with recruiters. The 84 new office spaces will support the college's growing faculty and staff. The new building is expected to cost about $105 million and will be built through a public-private partnership.
The university contributes about 40 percent of the total cost. Gies Business will contribute approximately 60 percent, including the fundraising goal of $50 million.
Copyright 2023 WAND TV. All rights reserved.
https://www.wandtv.com/news/new-campus-facility-named-in-honor-of-gies-alumnus-steven-wymer/article_838da8a2-c1b1-11ed-a8b4-4ba586f1cb33.html