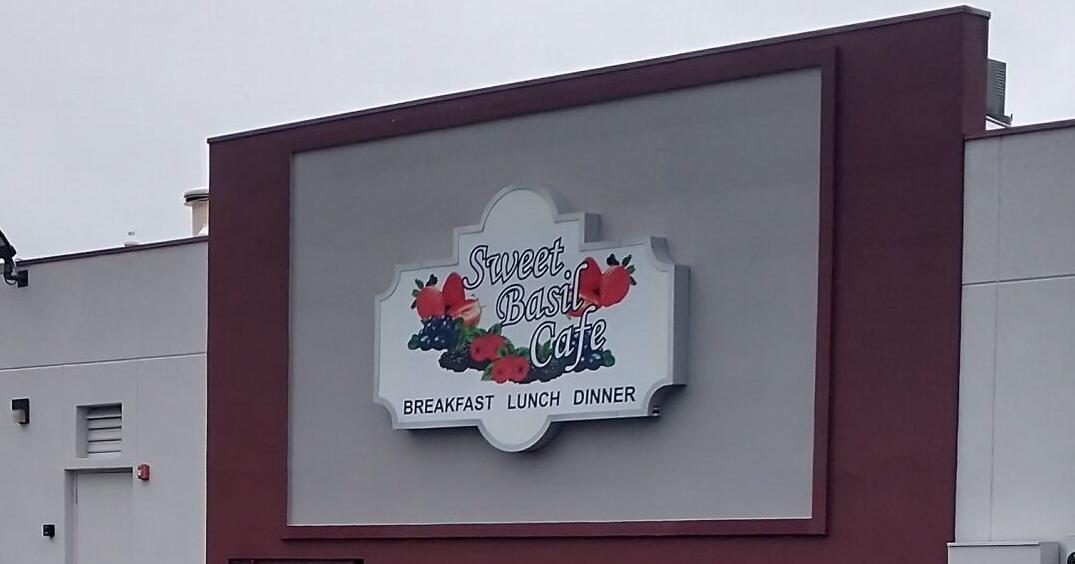 Drop a question of your very own into the 'Bag by clicking here
Questions this week about 24 days of rain in the last 36 days, the long-awaited opening of Sweet Basil Cafe, the avian flu, whether Champaign has four middle schools and whether the dockless bike provider is getting a city subsidy.
Sweet Basil Cafe
"Is the Sweet Basil Cafe (at 103 Marketview Drive in Champaign) that once was TGIF still plan on opening?"
Yes, but …
"Actually I'm here working on it right now," said Denise Karonis, who owns the chain of seven Illinois restaurants and was bailing out the Champaign store Thursday morning. "The problem now is the roof. It leaks in here like I'd have to give you an umbrella if I sat you.
"Within the next two weeks they're suppose to do something with the heating before they can put the roof on. The new roof is supposed to go on after that. I'm assuming they'll be done by the end of May or beginning of June.
"We figure that by then we'll be able to hire and train and then be open by July first. If we can open before that we will.
"This building has been a nightmare. It's a beautiful building and I thought we would be able to open in a minute. But I've opened three other stores in the same time. Literally this place is fully equipped and ready to go. It's been that way for about a year.
"The exciting thing about this is that we're getting a new roof and it will be nice and dry in here."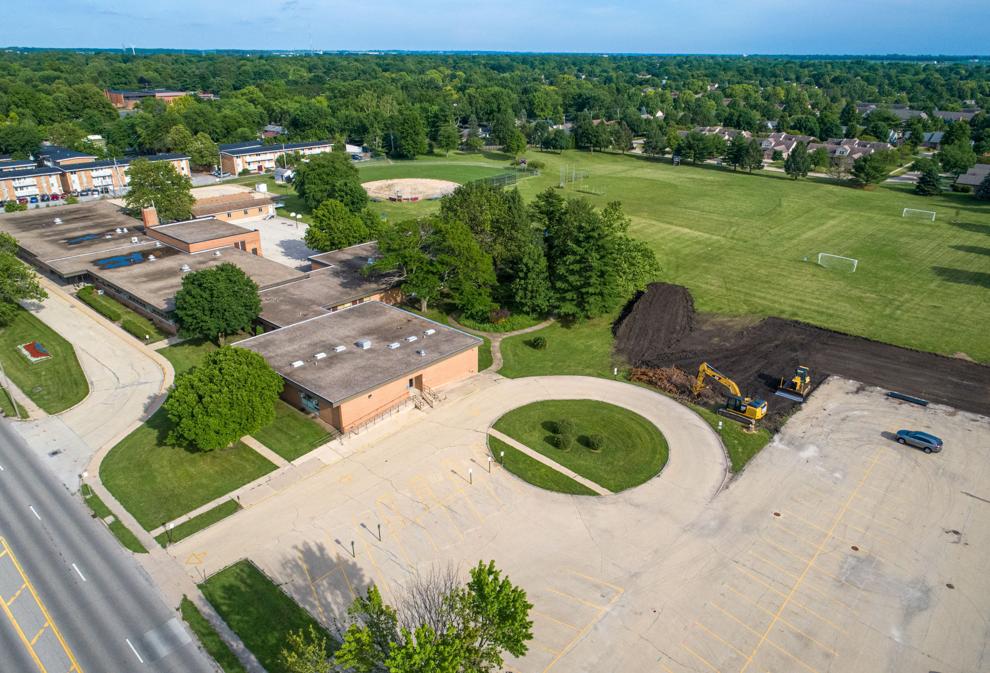 Unit 4 middle schools
"Does Champaign (school district) have three middle schools or four? I've heard that there is a middle school at the former Carrie Busey School on Kirby Avenue. If true, when did this come about? Was it voted on by the school board? Where did the money come from to build it and why does it seem like a secret?"
The school district's website identifies four middle schools in Champaign: Edison, Franklin, International Prep and Jefferson. But that's never been formalized by the school board, said board President Amy Armstrong.
"I'm pretty sure that it was in 2019 that we decided to rebuild IPA. We were working and talking about it at a meeting because multiple groups had been advocating to make IPA a K-8 school because its curriculum supported that," she said.
A check of past News-Gazette stories confirmed that in October 2019 parents asked the school board to consider expanding the dual language school to include up to eighth grade.
"There had been multiple public conversations about it," said Armstrong. "I said in the meeting, what if we don't demolish the old building, keep it and use it to grow it to see if parents will stay if we keep it a K-8? We didn't want to make the investment of making it a K-8 if parents weren't going to choose that."
Her twins are in sixth grade at IPA, she noted, and other parents also have kept their children in the school. It is a K-8 program "that is in a growth phase now" and goes up to seventh grade.
"It looks right now like a K-8 but it's just not in the same building, which it should be eventually," Armstrong said. "The board has to make that determination. The board has to vote on it and the board has to make it a K-8. So Dr. (Sheila) Boozer has to bring that forward to the board to vote on, to say let's establish this as a K-8."
Armstrong said that when the new IPA building (set back from the old building on Kirby Avenue) opens it will be K-5.
"My twins have spent the last year in portables, all those middle school students are in portables. Once the new building opens the portables go away and the sixth-, seventh- and eighth-grade students stay in the old building," she said.
"This is kind of a test to see if 'Do you really want this? Will you choose to stay here and really come?' "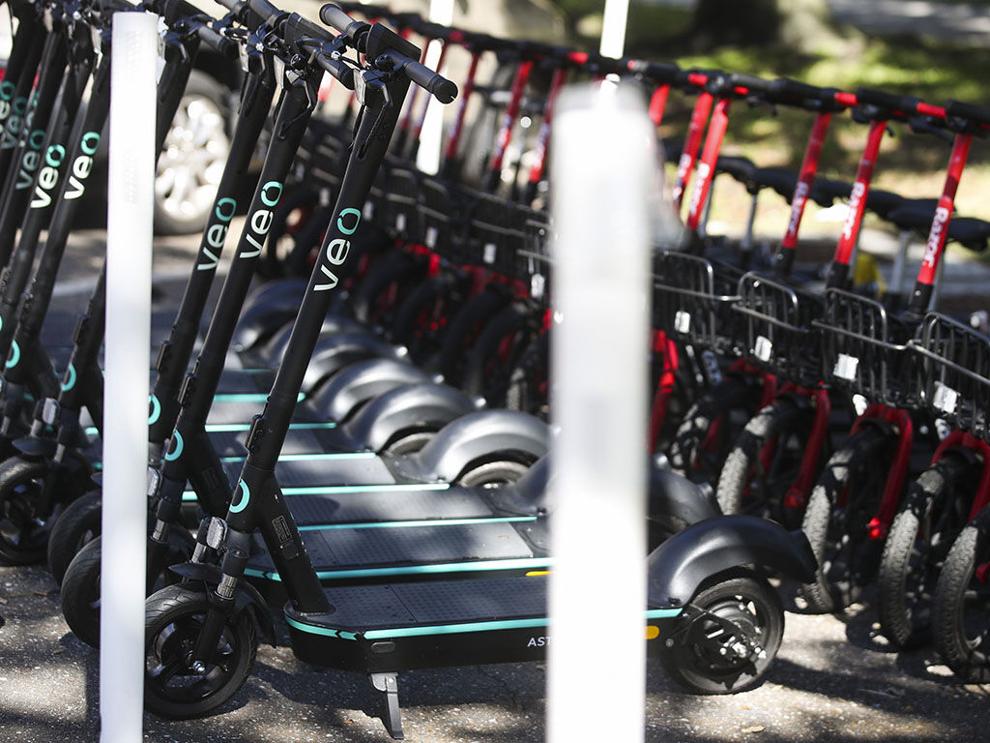 Veo subsidy?
"The article (last week) regarding Veo rental bikes made me wonder whether our tax dollars are being used to support this program. I see the bikes all over the place but never see anyone riding them. It's fine if Veo is running this business on their own but I do resent it if my tax dollars are subsidizing this program. Is the City of Champaign, City of Urbana and/or Champaign County financially subsidizing/supporting this program?"
"No, the city of Champaign does not provide any subsidy to VeoRide, the dockless bikeshare operator in Champaign-Urbana," said Jeff Hamilton, communications manager for the city of Champaign. "In fact, VeoRide pays an annual licensing fee to operate in Champaign-Urbana."
Urbana doesn't provide a subsidy either, said City Administrator Carol Mitten.
In 2017, Hamilton explained, several dockless bike sharing operators approached Champaign, Urbana and the University of Illinois expressing interest in launching a local service.
After discussions between the three agencies, he said, an intergovernmental agreement was approved that bound each entity to adopt a number of identical regulations for dockless bike sharing operators, including:
— Champaign was designated as the lead agency to administer license approvals, with each agency's enforcement authority preserved within their own jurisdictions.
— A non-refundable application fee of $600 is due annually upon application for license renewal.
— Operators are required to post a security deposit of $1,000 with both Champaign and Urbana ($2,000 total), which each city can draw upon to cover public expenses incurred within its municipal boundaries.
— Maximum fleet size limited to 500 bicycles per operator.
— Operators are required to provide a method for both users and non-users to report damaged and improperly parked bicycles, as well as regulations obligating operators to respond to such notice in a timely fashion.
"While it was anticipated that other operators of dockless bikeshare systems would choose to operate here, to date VeoRide remains the only licensed operator. VeoRide began operating in Champaign-Urbana in September 2018," said Hamilton.
Avian flu
"I am wondering how taking away bird feeders will prevent the flu from spreading. Is it because birds may congregate together at feeders?"
Jayette Bolinski of the Illinois Department of Natural Resources sent along a Facebook post from the IDNR where agency scientists explain that it's important to be vigilant in areas where songbirds interact with waterfowl like geese and ducks.
"Many of you have asked if hummingbird and oriole feeding are included in our recommendation to remove bird feeders and bird baths through the end of May to help stop the potential spread of avian flu.
"After further discussion, our experts believe it's unlikely that hummingbird and oriole feeders will contribute to the spread of (Highly Pathogenic Avian Influenza), and it should be OK to leave them up.
"However, IDNR continues to recommend that use of seed and grain feeders be halted through May 31 because they could attract waterfowl, which are natural carriers of HPAI.
"IDNR's recommendations are offered out of an abundance of caution and to be consistent with recommendations of neighboring states. These are general recommendations because it's impossible to address every possible exception and circumstance. We're relying on our fellow bird lovers to use their best judgment to help stop the spread of the virus.
"Please be aware that the greatest risk of HPAI transmission is seed and grain feeders and bird baths where waterfowl and songbirds may interact, or those in the vicinity of poultry operations or backyard flocks.
"Should you choose to leave your bird feeders and bird baths out, we recommend you clean them weekly with a solution of nine parts water and one part bleach, then thoroughly rinsing.
"And for those who want to take extra steps to help birds, property owners can improve the bird habitat by planting native shrubs and wildflowers during the month of May as an alternative to putting out feeders."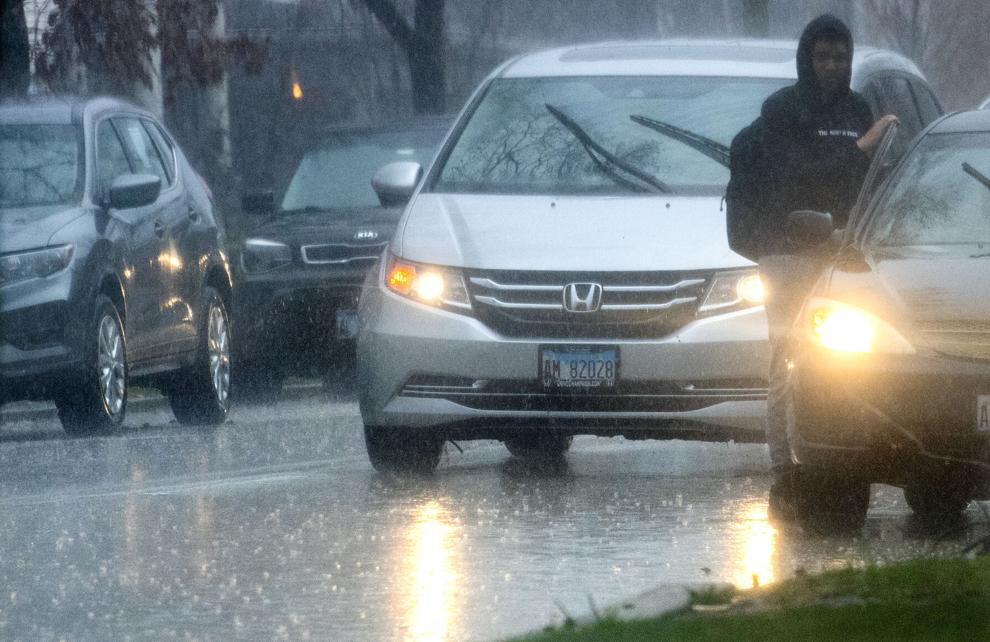 Too much rain
"It seems like it has rained every day since April 1. Is that true?"
Champaign-Urbana officially got only 2.52 inches of rain in April — about an inch and half below the monthly average of 3.94 inches.
But there was measurable precipitation on 19 of the month's 30 days. And that has continued into May where there has been rain on five of the month's first six days, according to the Illinois State Water Survey.
Thursday's rain, which seemed to last all day and night, amounted only to .72 of an inch, according to the water survey. But we've already had 2.4 inches of rain in May, almost as much as in April.
Solar panels in Urbana
"Has Urbana purchased land at Airport Road to install solar panels? Please confirm or deny for the residents in the area."
"No, Urbana did not buy land to install solar panels on Airport Road," said Mayor Diane Marlin.
But plans have been submitted to the city by a private developer for a project at 1806 Airport Road that would include solar panel arrays and a data center. The project got a conditional use permit in 2020. City planners at the time called it a low density development.
Wastewater testing
"Without community testing, how are immunocompromised people able to gauge the safety level of the world around them? Wastewater tracking had been helpful last month but it seems to have abruptly stopped mid April. Are there any plans to start it again? Are there any websites with a faster update cycle than the national CDC site?"
Wastewater surveillance for SARS-CoV-2, the virus that causes COVID-19, continues in Illinois.
Awais Vaid, deputy administrator and epidemiologist at the Champaign-Urbana Public Health District, directed us to a link at the Centers for Disease Control that shows any trend in the detection of SARS-CoV-2. Here's that link.
Select "Illinois" and "Champaign County" from the drop-down boxes.
"Additionally on the CUPHD website we also share the community transmission levels," said Vaid.
Tornado safety
"I'm a resident of the Garden Hills neighborhood for 35-plus years. Due to global warming more tornadoes are more prevalent in Illinois. A lot of houses in Garden Hills on the north side of the tracks have basements. Most of the homes south of the track are 2- and 3-bedroom ranch style built on concrete slabs. My question is where do families suppose to go for a fall-out shelter in case of a severe tornado? It's best to know before it happens and I hope I'm not the only one concerned."
Garden Hills is no different than any other neighborhood in Champaign County. There are few public shelters in the  county that are open 24/7 in the event of a tornado, said John Dwyer, the county's emergency management agency coordinator.
"A suggestion might be for the residents to work with a local church or churches that might be willing to open their doors in the event of severe weather," said Dwyer. "It could be a that a resident or two has a key to that facility and if the church is willing to provide access then people could take shelter there," he said.
Good advice for all people, no matter where they live, comes from the National Weather Service and OSHA, said Dwyer.
Here are the recommendations:
— From the NWS website: "If you are in a tornado warning, go to your basement, safe room, or an interior room away from windows.
Recommended tornado sheltering locations from OSHA's website:
— An underground area, such as a basement or storm cellar, provides the best protection from a tornado. If an underground shelter is unavailable, consider the following:
— Seek a small interior room or hallway on the lowest floor possible
— Stay away from doors, windows, and outside walls
— Stay in the center of the room, and avoid corners because they attract debris
— Rooms constructed with reinforced concrete, brick or block with no windows and a heavy concrete floor or roof system overhead
— Avoid auditoriums, cafeterias and gymnasiums that have flat, wide-span roofs.
Finally, he recommended downloading the FEMA app for real-time alerts about weather emergencies.
Remote parking
"Has the University of Illinois ever considered designating a lot for ride share pick up and drop off at basketball, football, concerts? Traffic is awful at these events and there are plenty of lots."
"We have established the West Circle Drive at State Farm Center (entrance off First Street) for ride-share pick-up and drop-off locations for Fighting Illini football, basketball and SFC events," said Kent Brown, associate director of athletics at the UI. "We continue to review this as the best location, but always looking if there is a better spot.
"For Illinois football games, the MTD still offers rides from remote parking lots for $2 roundtrip."
Executive Mansion
"Has the Governor's residence in Springfield been updated enough to be livable? If not, what is left to be done?"
"It has. (I've stayed there myself)," said Jordan Abudayyeh, chief spokesman for Gov. J.B. Pritzker. "The mansion association raised funds to restore the home and it is livable and in great shape now."
The mansion, built in 1855, has had a succession of renovations, most recently during the administration of Gov. Bruce Rauner.
"In 2015, Vinci Hamp Architects was hired by First Lady Diana Rauner to direct a $15 million renovation funded by private donations – including extensive interior repairs and landscaping that earned the residence a LEED Silver designation from the US Green Building Council. Governor Pritzker continued these renovation efforts with an $850,000 donation of his own in 2019," says a narrative on the Governor's Mansion website.(https://www2.illinois.gov/sites/GovernorsMansion/About/Pages/mansion-history-architecture.aspx)
"In order to minimize the cost to taxpayers, the Illinois Executive Mansion Association was created to maintain and furnish the mansion using privately raised funds. Since the Association's creation, each of Illinois' First Ladies has served as honorary chairwoman and spearheaded fundraising efforts."
Wingin Out replacement
"The old Wingin Out location on 3rd and Green is gutted. Do we know what business is headed in?"
No building permits have been issued by the city of Champaign for the property at 301 E. Green St., Champaign. And Randy Smith, Champaign's building safety supervisor, said no plans for the property have been presented to city officials.
Unique street names
"What are the origins of the naming of High Cross Road, Rising Road and Interstate Drive? The latter does not directly connect with the ramps to 57 or 74."
"In 1963 Newton and Donald Dodds purposed the building of a research park close to Interstate 57 and north of 74 on farm ground that they owned. It would be called Interstate Research Park. The road leading into the research park was named Interstate Drive," said Karla Gardes, one of our favorite researchers at the Champaign County Historical Archives at the Urbana Free Library.
Rising Road likely is named for George Rising, a Ohio native who moved to Champaign County in 1859 and upon his marriage to Lucinda Pippin, bought a farm of 68 acres northwest of Champaign. He eventually acquired 345 acres in Hensley Township and also raised livestock. Rising also served as a justice of the peace and was a director of the Champaign Agricultural Society.
High Cross Road stumped all of those we asked. If anyone has an answer, please let us know.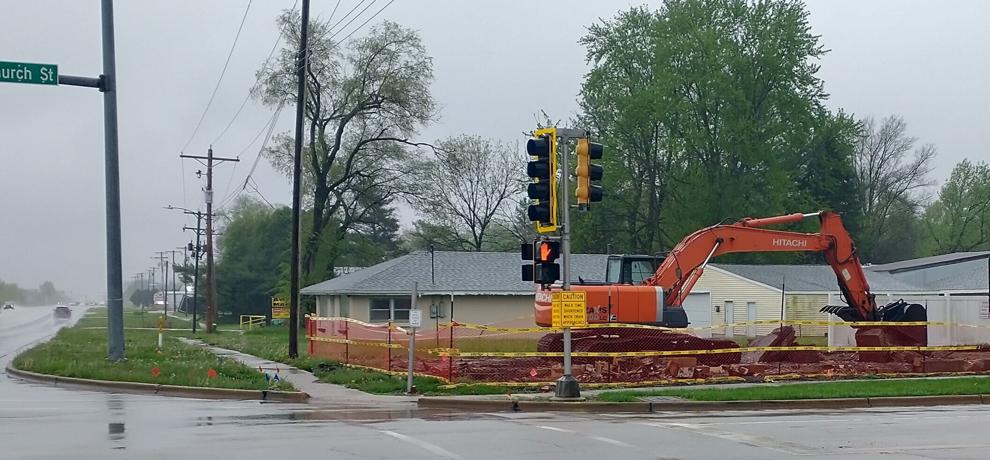 Savoy property
"An old building in Savoy that resembles a storefront was demolished at the corner of Church Street and Dunlap. What was it formerly and are there plans for another business to occupy that corner?"
"The property in question previously was a catering company. However, that company relocated to another storefront in Savoy and sold the property a few years ago," said Savoy Village Administrator Christopher Walton. "The new property owners used the space as storage but recently acquired a demolition permit from the village. While staff has not received any application for new construction at that location, the village is excited to see new economic development and growth on the site."
https://www.news-gazette.com/toms-mailbag/toms-mailbag-may-6-2022/article_74dd68bd-c7ba-53ef-b749-ec45081383ed.html